Auto complete feed production line
Fish feed production line is one of Auto complete feed production line, which is newly developed to meet the demand of intensive production of animal fish feed pellets. And this machine can produce floating fish feed, sinking fish feed, pet feed, livestock feed, etc.
Advantages of Auto complete feed production line
1.different shapes, unique flavor, rich nutrients and fine texture to meet the different eating habit of animals
2.Super automation control and high production efficiency
3.fish feed production line is the best choice for medium and big sized feed mills and breeding farms
4.fish feed production line can produce various kinds of pellets for different varieties of fishes including Halibut pellets, Catfish pellets, CatCarp pellet, Trout pellets, Hemp pellets, CSL pellets,etc.
5.Advanced technology, high capacity and low energy consumption.
6.PLC controlled, alarm device is available. The operation is simple and convenient.
7.The modular structure is convenient for assembly and disassembly, facilitating the shipment and installation.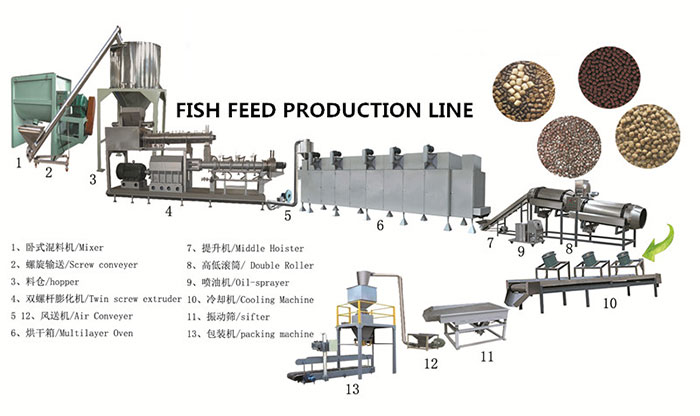 About Fish feed production line
1. Raw materials: Plant protein comes from corn, rice, wheat, soybean, peanut cake powder, etc; Animal protein is from fish meal, shrimp meal, crab meal, sleeve-fish meal and so on you can add other ingredient according to requirements and eating habits of animals.
2.Production capacity: 0.06 to 5 ton per hour.
How to produce fish food or other animal food?
The processes of this fish feed manufacturing plant mainly include material grinding, material mixing, pellets extruding, pellets drying, and pellets packing.
1.Material grinding - feed materials crusher machine- feedstuff grinding
The raw materials should be grinded to the required size by feed grinder. Crushing the material can improve the water stability and digestibility of feed pellet.
2.feed mixing - use fish feed mixer
Mixing the material thoroughly can ensure extruding efficiency and improve the feed quality. Horizontal ribbon feed mixer or double-shaft mixer or feed ribbon type mixer.double-shaft efficient mixer can be applied to mixing powdery, granular, flaky and blocky materials while feed ribbon type mixer is mostly used for mixing powdery materials.
3.Fish food extruding- dry fish feed pellet extruder
Dry type fish feed machine and wet type feed machine. The wet type extruder has the conditioner and need a steam boiler, while the dry type fish feed machine does not need. The former is suitable for large fish feed pellet plant, while the latter is better for small and medium feed pellet user or fish feed pellet production plant.
4.Fish feed pellets drying- Pellet Extruding Drying Machine
Belt dryer. We provide multi-layer mesh belt feed pellet dryer for drying the pellet coming out of the fish feed machine. The pellets are spread evenly on a wire mesh belt conveyor and conveyed within the dryer. Hot air passes through the pellets and brings away the moisture.
5.Fish Feed Pellet Cooler For Fish Feed Production Line
Fish feed pellets cooling is reduce the temperature of food.
6.Fish feed pellets packing - Fish Feed Packaging Machine -electronic packing machine
The fish feed pellets packing machine consists of automatic weighing machine, conveyor, bag sewing machine and automatic control box. It can weigh the pellets fast and precisely. Simple structure, reliable operation.
SEND ENQUIRY
We receive enquiries in English, Español (Spanish), Русский язык (Russian), Français (French) and العربية (Arabic). Our professional team will reply to you within one business day. Please feel FREE to contact us!